Looking for the Best Carpet Cleaning in Raleigh, NC?
ACE is the ONE STOP SHOP for all your rug & carpet needs.
In addition to cleaning your carpets, we offer the Finest Rug Cleaning and Rug Repairs!!!
Raleigh Depends On Ace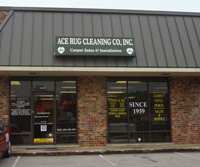 For professional, affordable carpet cleaning in Raleigh NC, Ace Rug Cleaning Company is the call to make. Our second-generation rug and carpet cleaning company has seen it all—and cleaned it all since 1959! Your stains, spills, smudges and spots are no match for our years of expertise in everything from pet accidents to baked-on, caked-on dirt from every conceivable source.
Whether it's removing a tough carpet stain, oriental rug cleaning, upholstery cleaning, or making basic rug repairs or carpet repairs, Ace Rug is the cleaning company Raleigh residents depend on time and time again.
Why Ace for Carpet Cleaning in your home?
Pricing and custom quotes: For many of our services we offer a set price list. However, no two carpets or rugs are alike. Therefore we offer custom quotes on rug, carpet, and upholstery cleaning services based on your specific needs, giving you the best possible value!
Outstanding service: We haven't been in business for two generations by accident; every client is another chance to do our best! Our 5-star Reputation for carpet cleaning Raleigh, NC homes and businesses speaks for itself.
Proven results: Many people have approached us with carpet stains they never thought would come out, only to be amazed when their carpets and rugs look like new again. There's no substitute for over 55 years of experience as one of the top carpet cleaners in Raleigh.
Family Owned and Operated: We don't just serve the Triangle, we live here as well. Our reputation and your satisfaction are of the utmost importance to us, and we look forward to building lasting relationships with each of our valued customers.
Here is a description of our services.
Carpet Cleaning Services

Hot water extraction, also known as steam cleaning (although no steam is actually generated), is THE BEST WAY TO CLEAN CARPET according to nearly all carpet manufacturers.
If you were to survey all the major carpet manufacturers and/or carpet fiber producers, you would find their top recommendation for cleaning is hot water extraction.
In addition, when it comes to "deep cleaning," steam cleaning or hot water extraction are the only methods that really qualify. All the other cleaning methods are really referred to as "light surface cleaning" or "interim cleaning" methods because they cannot remove soil that has worked its way deep into the pile. Also, these other methods tend to leave substantial amounts of cleaning chemicals in the carpet after completion.
In fact, Shaw Industries, the world's largest carpet manufacturer, recommends hot water extraction for carpet cleaning in its maintenance brochure. This is because their extensive research reveals that hot water extraction really offers the best results.
Steps in the Cleaning Process:
Carpet Inspection
The cleaning process for your home or business starts with an inspection of the carpet itself to determine its fiber content – whether it is nylon, olefin, wool, etc. This allows us to choose the appropriate pre-treatment and cleaning solution for your carpet. Any spots, spills or damaged areas that require special attention will be noted at this time.
Next, we check traffic areas for fiber wear or abrasion. Once we've completed the carpet inspection, we are able to provide you with realistic expectations for your cleaning.
Pre-treatment for Cleaning
Pre-treatment is the next stage of the cleaning process. The carpet fibers are treated with a preconditioning agent to emulsify soils and general spots. Further emulsification of stubborn stains and that pesky orange North Carolina clay in traffic areas is accomplished with a professional groomer which agitates the pre-conditioner. Of course the use of this carpet cleaning technique depends on the type and condition of the carpet.
Neutralizing
After pre-treatment, the carpet fibers are thoroughly flushed with a neutralizing rinse agent using the world's most powerful extraction system to immediately vacuum it out. The super-heated water helps kill germs, and the neutralizing agent leaves the carpet fibers pH balanced. This simply means carpet fibers will remain clean, soft and only damp to the touch with none of the sticky residue that causes resoiling.
Spot Removal and Carpet Stain Removal
Specialty spot removal products may be employed on an individual stain-by-stain basis during the rinse phase of the carpet cleaning process. This is for any spots that did not respond to preconditioning treatment.
We insist that our carpet cleaning service creates as many satisfied customers as possible. Unfortunately, some carpet stains are permanent. But we will retreat with spot remover as many times as it takes to either remove the stain or be 100% confident that we have done our very best to remove it.
Benefits of Professional Carpet Cleaning
Carpet Stain Removal
Spot Removal
Kill germs
pH Balance
Brighter colors
Pet Odor Removal
Pet Urine Removal
Emergency Water Removal
Remove Ink Stains
Remove Food Stains
Remove Coffee Stains
Remove Tea Stains
Remove Mustard Stains
Remove Red Stains
Remove Wine Stains
Remove Rust Stains
Remove Nail Polish Stains
Remove Grease Stains
Rug Cleaning
You don't want to trust cleaning your expensive rugs to just anyone; you need an experienced pro. As it says in our name, we're "Aces" at Rug Cleaning and have been the oldest and largest rug cleaning company in Raleigh since 1959. Our in-plant cleaning ensures your rugs get the care and individual attention they deserve whether they are heirloom quality orientals or simple, contemporary area rugs. Our rug cleaning service is available from 8:30-5:30 Monday through Friday for drop-offs or we can pick-up and deliver rugs if you prefer.
The rug cleaning process is very similar to the carpet cleaning process laid out above. Cleaning is done by hand, not in a commercial wash pit like our competitors where rug after rug is cleaned in the same dirty water. The basic steps are: Inspection, Soil Removal, Pre-Treatment and Cleaning. Then we rinse, dry, final inspect and deliver.
Ace Rug Cleaning serves the greater Triangle area including Raleigh, Durham, Cary, Apex, Morrisville and Wake Forest and the surrounding areas of Garner, Clayton and Knightdale.
Contact us today at 919-832-2275 or via email for a no-obligation estimate!
Raleigh NC Carpet Cleaner | Rug Cleaning Raleigh NC | Upholstery Cleaning Raleigh