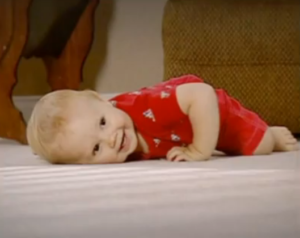 Baking soda or baking powder for odor removal in carpets and rugs … which one should you use? Has this ever happened to you? You have an odor in a carpet or rug and want to try removing it yourself. Then you check the pantry and all you have is baking powder. You know baking soda works, but is baking powder just as good?
A recent website visitor had a similar dilemma when she sent her husband out for baking soda, and he naturally blew it and brought home baking powder. (By the way guys, we see right through this ploy … screwing up your directions on purpose will not exempt you from future assignments. :))
At any rate, there she is –  rug with pet odor, dog smell to be exact, and a 10-month old who wants to crawl around all over it, and hubby brings home a huge box of baking powder. What should she do?
Well as it turns out, she probably needs to send him back out to fix his mistake. Baking powder does have baking soda in it, but it also has a couple of other ingredients that don't make it ideal for the job.
Baking powder has added acidifying and drying agents, typically cream of tartar and starch. Baking soda, on the other hand, is pure bicarbonate of soda.
The beneficial qualities of baking soda are the result of its ability to act as a buffer, neutralizing both acidic and alkaline substances to regulate pH. This is the real secret behind its effectiveness as an odor remover — it does more than mask offensive smells, it actually neutralizes them.
Additional benefits of baking soda are that it is inexpensive, environmentally friendly, fragrance-free, and nontoxic. In the situation we've described above, if calling Ace Rug to take care of the stain or odor is not practical, baking soda is the perfect deodorizer to use in these areas frequented by children or pets.