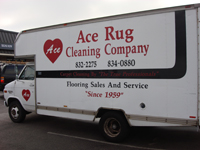 As you consider a carpet cleaning service in Raleigh NC, look no further than Ace Rug Cleaning. Family owned and locally operated since 1959, we are the most experienced carpet cleaning service in Raleigh, NC.
Led by Jim and Jennifer Reynolds, our company provides its customers with top quality carpet cleaning services at reasonable prices. You can count on our professional staff to serve your cleaning needs  in a prompt and courteous fashion while also delivering exceptional results. Just check out our carpet cleaning reviews and testimonials to see what our customers have to say about our work. You don't earn a 5-Star reputation in this competitive industry without doing great work consistently over 5 decades.
Reasons to Choose Ace as Your Carpet Cleaning Service
One of our big advantages is our experience. We've probably seen every cleaning nightmare you could imagine over the years, so you can expect we have the answers when it comes to dealing with your carpet cleaning problem. Pet stains, carpet odors, spills, you name it – we've seen it and know just how to treat it.
Obviously we can't guarantee to remove every stain out there, but we're the specialist to call when it's more than you can handle yourself. We know the necessary pre-treatments. We know when hot water extraction or steam cleaning is best versus dry cleaning. Sometimes even cleaning by hand is the best method, especially with fine oriental rugs that may be too delicate for any other cleaning method.  We know carpet, we know rugs, and we know how best to clean them for your home.
So if getting your carpet clean and sanitized is important to you, who do you want to call? The company with just a few years experience that bought a franchise and offers one cleaning method like dry-cleaning-only because it's the new "in" thing? Or do you want to call the company that has been carpet cleaning in Raleigh for 55+ years? The company that has their own in-house rug cleaning plant, the company that offers pick-up and delivery, the company that has multiple cleaning methods to choose from based on your particular need, and lastly the company where the owner is never more than a phone call away.
If that sounds like the carpet cleaning service in Raleigh, NC that you want working for you, call Ace Rug today at (919)-832-2275. We want to prove to you we're the best Carpet Cleaning Service Raleigh NC residents can choose for all their cleaning needs.