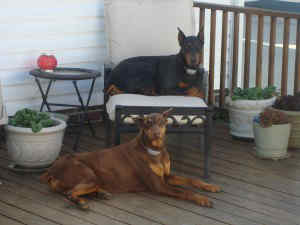 They look nice and mannerly in the photo, but there are a few stories in their past that led to more than one incident of carpet stains and pet odor in carpet. Josie is our red female Doberman and Messi is our black male Doberman. AKA " The loves of my life"…  Yes his name is Messi! He was originally named after a famous Argentina soccer player, Lionel Messi but he has lived up more to the name of MESSY. Messi has on occasions vomited  on my carpets and Ms. Josie has "pee peed" twice on my living room carpets. I know these things happen if you have pets or kids or even messy husbands, so here is a brief tutorial on what to do in the aftermath.
How to Treat Carpet Stains and Pet Odors in Carpet
Responding  IMMEDIATELY is key. Once vomit, urine, or feces have dried & the stain has set in it's almost impossible to remedy on your own and often impossible by the professionals.
Remove all solids. Spoon it up, scoop it up or extract it with a wet vac. Do whatever you have to do to get the bulk of it up off your carpet. Careful not to mash it into the carpet. A wet vac. is the best since it's sucking it up without grinding it into the carpet fibers. I don't have a wet vac. so I spoon it up and blot up excess liquids with old towels.
With several small wash rags, I scrub the area using a carpet stain spotter we sell in our store. Scrubbing can sometimes make some carpet fibers fuzz, but I do it anyway. I can deal with a little fuzz but can't deal with vomit or feces stains.  Just blotting alone doesn't seem to work as well with these type stains. If you don't have a great stain remover handy, try making a paste with hot water, baking soda and peroxide. I've heard others say this works great. I haven't tried it and urge you to test a spot first to be sure it's safe for your carpets.
If a stain is still visible repeat this process again or call our office at 919-832-2275 to get on the schedule for our  truck mounted steam machine to come out and give it a shot. Sometimes animals with health issues, urinary tract infections, on medications  or that eat certain foods can stain carpets worse than others and that can make removal much harder.
To combat pet odors in the carpet:  In a gallon pitcher I mix one part water with one part white vinegar.  I pour some of the mixture over the pet damaged area. Then lay towels over the area and step on it over and over again to soak up the mixture (changing towels frequently).  I use as many towels necessary  and step on it as much as I can to soak it all up. Always using clean towels. I've used as many as 6 towels on one incident. I repeat this same process at least twice.  This is also a good way to rinse out the  soaps from the spotter. If you have a wet vac. use it to soak up the mixture.
After I've soaked up as much liquid as I can, I apply the enzymes we sell in our store and then cover the enzyme  with a damp towel and let sit for about 24 hours . Enzymes digest odors  while they are wet.  Next day I put 2 heavy duty fans on each side of the wet area for a few days. It's important to get the carpet dry within 48 hours even deep down in the pad and floor needs to dry or it can get a sour odor.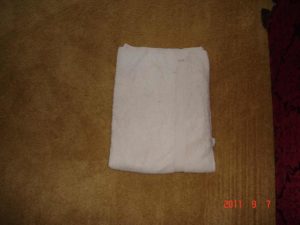 If I can get my carpet cleaner out the next day, I do. But I have been very successful  when he wasn't available treating it myself.  After treating Josie's first urine incident I had a dark watermark ring left behind but when I had my carpet cleaned a few weeks later that mark disappeared.
The two times Josie has urinated on my carpet and Messi has vomited I have no stains or odor from either incident. This makes me very happy. My nose is very sensitive to odors and I don't feel I could stand it if my home smelled like animal urine or vomit.
Remember immediate action is most important and I highly recommend a good stain protector be applied to carpets and rugs after each cleaning. Most people overlook the importance of stain protectors but it really helps and I can't afford to overlook it with my MESSY crowd.
I live on a farm. I have two large dobies Josie & Messi, one race car driving greasy husband and a careless messier teenage boy. The following picture was taken in my living room at the back door. Still looking great after 11 years. Proof that yearly cleanings and stain protectors do work. So there you have a few tips for how to treat carpet stains and pet odors. If you have any other questions please feel free to call me 919-832-2275 or browse for more info here on our website.