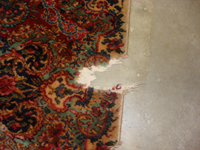 For rug repair or carpet repair in Raleigh, NC, Ace is the place. As the housing market ebbs and flows, more and more people are choosing to stay in their homes longer. As a result, they're discovering that rug repair or carpet repair is a smart and economical option versus complete replacement. Fortunately at Ace Rug we have the experienced repair technicians to fix your damaged carpets or rugs to extend their life a little further while saving you money.

In just a few hours, our team of Raleigh Carpet Repair and Rug Repair experts will have your home's carpets and rugs looking their very best! Choose from a wide variety of services, including:
Rug Repair Services in Raleigh NC
Area rug cleaning and repair
Fringe repair and replacement

Binding repair and replacement

Damage within the body of rugs repaired
Backing
And more! There's not much we can't repair.
In-Home Carpet Repair in Raleigh
Carpet Repair: Residential and Commercial
Carpet stretching
Re-stretch with power stretcher or kicker
Seam repair, replacement and sealing
Patching
Sub-Floor Replacement
Transition strip replacement
Tack Strips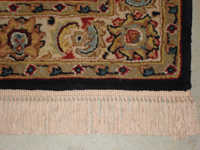 Depending on how badly your area rug or carpet is damaged or worn, odds are that our rug repair service can help it look its best again. We'll put our more than 55 years' experience in carpet repair and rug repair to work for you! When you are ready to replace your carpeting please come see us for competitive professional carpet sales and installation. Click here to learn more: CARPET SALES & INSTALLATION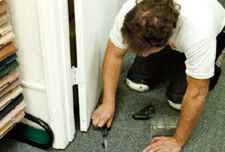 See what thousands of satisfied Raleigh carpet repair and rug repair customers have found out for themselves—that no one does repairs like Ace! Contact us today at 919-832-2275 or via email for a no-obligation estimate!