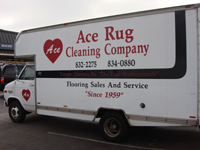 For quality, dependable Rug Cleaning, Raleigh NC residents have been turning to Ace Rug Cleaning since 1959. You just know Raleigh Area Rug Cleaning is our specialty 'cause it's right there in our name. Family-owned since the beginning, we're the oldest, the largest and the best rug cleaning service in Raleigh, NC.
When you need oriental rug cleaning and area rug cleaning services, we highly recommend that you bring them to our plant for maximum cleaning results and care. Whether you drop-off or schedule a pickup of your rugs, an in-plant cleaning ensures that your rugs will get the individual attention and careful drying time that they need and deserve. All products used in our rug cleaning services are environmentally safe and baby/pet safe.
From Family Heirlooms to Oriental Rugs, We're the Rug Cleaning Company in Raleigh Who Does it All
Oriental Rugs
Wool Rugs
Sisal Rugs
Dhurrie Rugs
Braided Rugs
Needlepoint Rugs
Hook Rugs
No matter what type of rug cleaning service you need, our process is consistent for each piece we receive: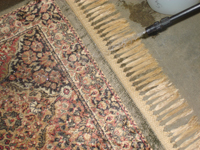 Step 1: Initial Inspection
An inspection is done to determine what method of rug cleaning service is necessary.

Step 2: Soil Removal
A special pile lifter & specialized vacuum unit is used to remove dust from the front and back of all rugs.
Step 3: Pretreatments
The body of the rug and the fringe are treated with a solution to aid in removal of tough spots.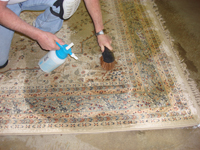 Step 4: Cleaning
At this point we begin our hand-wash or dry-cleaning procedure. It is here that we make the critical decision of which is the best and safest methods to do the actual cleaning of your oriental rugs and area rugs. It is our experience that hand-washing produces the better cleaning and we use this method whenever possible. Some rugs cannot withstand water and we must use a dry-cleaning method.
Step 5: Rinse
Rugs are rinsed thoroughly to ensure no cleaning or dirt residue remain.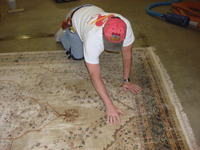 Step 6: Drying
Drying a rug properly is extremely important and avoids unnatural shrinkage. Your rug will be dried flat or hung to dry in a specially designed controlled drying area.
Step 7: Final Inspection
After the rug is COMPLETELY dry, it is thoroughly inspected by owner Jim Reynolds himself. Any rug not passing his inspection is then sent back through the cleaning process at no charge to you.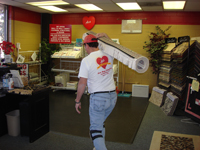 Step 8: Home-bound
When rugs pass Jim's inspection, they are combed, groomed and ready to go home!
What Makes Us Different From Every Other Raleigh, NC Rug Cleaning Company
Many times we have to make a decision "on the fly" as to what is best for your rugs. It is here that our 55+ years of experience as a rug cleaning company come into play.
We can, in midstream, change the procedure to wash your rug based on what we're seeing in real time. We can change water temps, pressures and soap ratios using our years of expertise. No school training can give this type of experience. No one in the Raleigh area has this much experience and success.
And unlike every other rug cleaning company in Raleigh,  we do not recommend washing in water pits. We never use the same water on your rugs as used on a previous rug. We make this claim honestly. Owner Jim Reynolds' reply to water pit use? "You wouldn't take a bath in someone else's dirty water would you? We wouldn't treat your rug that way either."
Don't Forget … Clean Rugs Deserve New Pads
To schedule your rug cleaning appointment, contact us today at 919-832-2275 or via email for a no-obligation estimate!