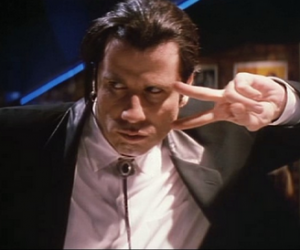 I know that blog post title might look like a typo, but it's true. Being a rug expert in Raleigh apparently qualifies ACE RUG to go on air on Raleigh's WRAL FM 101.5 radio show with Mike and Linda to answer questions about whether John Travolta is "wearing a rug" in three of his films. It was hilarious.
Hi, it's Jennifer at Ace and the radio guys contacted us since we are, after all, "Raleigh Rug Experts." The setup was they would show photos of John Travolta from 3 of his popular films with somewhat unusual hair, and I had to identify whether it was his real hair or a rug. After all it takes a real rug expert to analyze real vs fake "rugs." Then contestants had to come on the air and guess to match our answers.
Check it all out on the audio file below and enjoy a good laugh as you find out in which film John Travolta's hair looks like a "flat weave Navaho rug." And remember … as this highly scientific study shows, Ace Rug is more than qualified to deal with any rug questions you might have, and don't forget carpet cleaning Raleigh either. Call us at 919-832-2275 for any rug cleaning, rug repair or maybe even a hair weave question. :)

Click the audio player below to play MP3 audio.

Or click here to access audio file directly