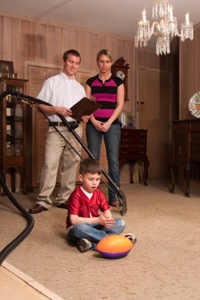 When you're looking for the best Raleigh carpet cleaner, homeowners and businesses look no further than Ace Rug Cleaning Company. We make getting your carpet clean an easy, rewarding, affordable experience that will have your home or business looking its best. And we've been doing it since 1959!


Our outstanding reputation, combined with more than five decades of providing the best carpet cleaning Raleigh NC residents can get, means there's no mess we haven't seen or cleaned before. Our technicians take the time that no other Raleigh area cleaning company does to provide a customized cleaning to meet your specific needs.
Our Raleigh Carpet Cleaners Help Your Rugs Look Great, Last Longer
The obvious problem in keeping a carpet looking like new is dirt. Dirt acts as an abrasive to carpet. And each time you walk on the carpet, you grind in the dirt (abrasive). This cuts and damages the fibers, leaving the carpet and rug looking worn. Vacuuming helps, but vacuuming alone is not enough. Regular cleanings are vital in keeping carpets and rugs looking better and lasting longer.
Most carpet manufacturers recommend professional cleanings every 12-18 months. If you have babies, toddlers, puppies, kittens or if you suffer from allergies, you need to call Ace … the reliable Raleigh carpet cleaner that 1000's of homeowners have come to trust over the years.
Custom Carpet Cleaning for Raleigh NC Residents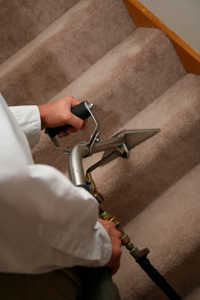 Step 1: Initial Inspection
Your professional carpet cleaner will walk through your home with you to inspect the carpet and go over which areas you would like cleaned. This is a good time to alert him to any stain concerns.
Step 2: Pretreatment of Spots & Traffic Areas
A spray solution is applied to break down traffic area soils and general spots to aid in a thorough cleaning. Spots that need to be pretreated are treated at this time.
Step 3: Soil Extraction & Rinse
We use the most advanced truck-mounted hot water extraction cleaning system in the industry to achieve maximum soil and spot removal without unwanted residue or soaking your carpet. We leave your carpet as clean as possible.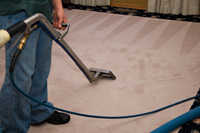 Step 4: Grooming
Your carpet is combed and groomed so that the pile dries faster and in the right position.
Step 5: Walkthrough
Your carpet cleaning technician will walk back through your home with you to assure you're satisfied with his cleaning.
Click here to see how to prepare for your in-home carpet cleaning.
Contact us today at 919-832-2275 or via email at info [@] acerug.com for your no-obligation carpet cleaning estimate!