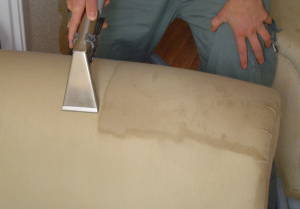 If you're looking for Upholstery Cleaning, Raleigh Area residents know to call Ace for the best service in the region. Ace Rug's upholstery cleaning service will help keep your furniture looking its best as we clean, refresh and revive your upholstery.
And if you've got a special piece of furniture that's been passed down in the family over the years, we specialize in family heirlooms!
Upholstery Cleaning Raleigh Has Known for Years
Our Raleigh upholstery cleaning service technicians are trained in all aspects of furniture cleaning using the latest techniques and family and pet-friendly cleaning solutions. They have expertise working with a variety of difficult-to-clean materials, including silk, suede, ultra suede and velvet.
Before starting your cleaning service, our specialists will carefully inspect the fabric and construction of each piece of furniture, and select the proper cleaning method. We highly recommend a stain-resistant protective coating be applied after cleaning to ensure maximum soil resistance and time between cleanings. As always, we promise that your furniture and upholstery will get the specialized attention they  deserve!
Contact us today at 919-832-2275 or via email for a no-obligation estimate! Ace wants to be your first choice for upholstery cleaning in Raleigh, NC.